The 4.5" (12cm) adjustable blades fit product sizing needs. Ideal for cutting pastries and various dough's
Somerset's Dough Cutters Features
Can be ordered in any size and with as many disc necessary for your dough application.
The Cutting Rod allows for uniform cuts, Ideal for cutting pastries and various dough's.
Able to meet any size strip down to ¼" thickness.
The 4.5" (12cm) adjustable discs allow you to customize size at any time.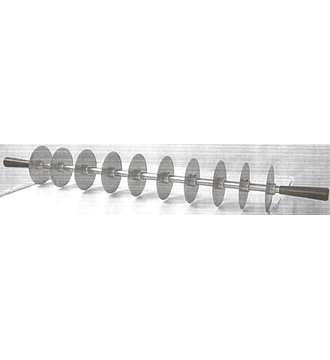 Somerset's Table and Stands
Make your Somerset machine mobile in your kitchen with a Table on Casters.
Heavy Duty Utility Table with Stainless Steel construction.
Heavy Duty Casters Included on all tables.
Simply Press Down to Dock Dough
Somerset Dough Dockers Features:
Prevents Dough Bubbling
Dough Cooks Even Every Time
Prevents Oil Absorption
Prevents Separation of Crust
Docks Round or Elongated Dough Evenly
Docks Dough Perfectly Every Time
Effortless, Consistent Operation
A Must For Conveyor Ovens