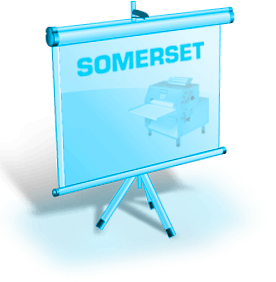 Customer Support Center Hours:
Call us at: 800-772-4404
Monday - Friday, 7:00 AM – 7:00 PM
Saturday, 9:00 AM – 4:00 PM
One of the things that we enjoy most about restaurant trade shows is the opportunity to speak with and receive feedback from other professionals in the foodservice industry. At restaurant industry trade shows, we get to show off new models of our equipment, announce new designs and modifications, and hear about innovative ways that professionals use our equipment to increase production and enhance their profit margins.
At foodservice trade shows we also get to hear ideas from professionals about what they want from our bakery equipment, as well as new designs and accessories they'd like us to make. This input is invaluable and inspiring to our design and manufacture processes for innovative bakery equipment to serve foodservice professionals' needs now and into the future.
2016 Somerset Upcoming Tradeshows

Show Name
State
City 
2016 Date
Booth#

HOSTEX CRFA
ONT
Toronto
February 28-29

March 1

PIZZA EXPO
MA
Boston
 March 13-15

PIZZA EXPO
NV
Las Vegas
 March 8-10
 #2055
NORTHWEST SHOW
OR
Portland
 March 20-21

NRA
IL
Chicago
May 21-24
BAKERY CONGRESS
ONT
Toronto
1-3

TRA
TX
Houston
June 26-27
CA
Aneheim
August 28-30

 FRA

FL
 ORLANDO
September 27-29

IBIE SHOW

NV
Las Vegas
October 8-11