Somerset SPM-45 Pastry & Turnover Machine
Folds! Crimps! Trims! Seals! All in One Operation!
The Somerset SPM-45 turnover machine is designed and engineered to dramatically simplify and reduce the labor-intensive production of pastries and turnovers that are very popular with customers but hard to make profitable. We designed this machine to make the production of all sorts of sweet and savory turnovers fast and efficient so that it only takes a minute to train an employee to produce a consistent product with speed and precision.
Features of the SPM-45 (Turnover Machine)
Simple, compact design which is easy to use and easy to clean
Significant savings through portion control of dough and fillings
Consistent appearance and size of finished products
Increased production up to 500 pieces an hour
Custom designed dies available for authentic presentation
Wide selection of dies to choose from in various shapes and sizes
Perfect for:
Panzarotti
Pierogies
Pot Stickers
Samosas
Strombolis
Sanbusak
Fruit Pies
Empanada
Calzones
Fried Pies
Lahmajoon
Jamaican Patties
Raviolis
Specifications
The SPM-45 is a simple hand operated machine which can create big profits for your business.  It can make a wide range of different products by simply changing dies.  All finished products will have a perfect seal with no need to brush the edges with egg wash or other sealants.
Finishing
All Stainless Steel
Shipping Weight
30 lbs. (15kgs)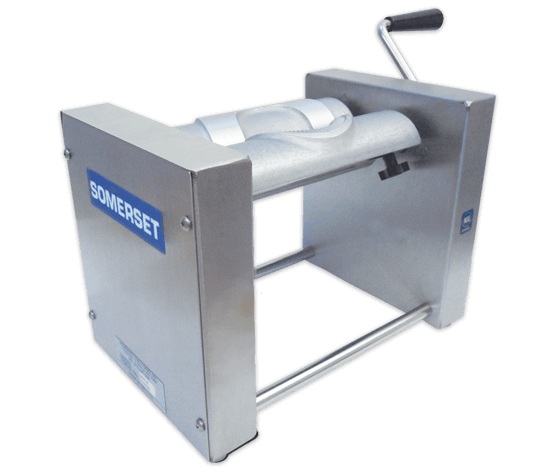 The Somerset SMS-60 Meat Shredder
Shreds Chicken, Beef and Pork Quickly and Efficiently!
The SMS-60 is a simple hand operated machine which can create big profits for your business. It decreases time needed to shred/pull meat, allowing for an authentic presentation in more than half the time.
Features of the SMS-60 (Meat Shredder)
Compact design, simple to use, easy to clean
Perfect shredded appearance and consistency
Decreases and reduces risk to injury from kitchen utensils
Increase production while decreasing time-spent
Perfect for:
Pulled/Shredded Meats
Chicken
Beef
Pork